Nashville, TN: Gibson Custom, a division of Gibson Guitar, today announced its exclusive Artist in Residency program. The new program, based in Nashville, was established to inspire fine art through the support of established and emerging artists.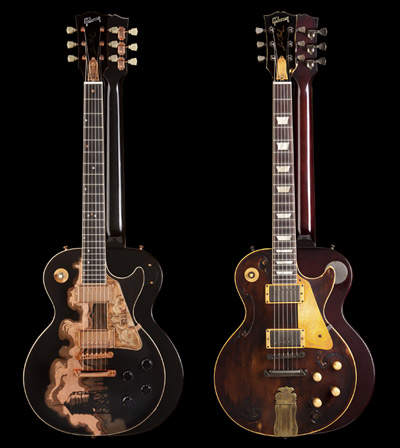 Beginning in the first half of 2012, Artists interested in participating in the program will be invited to e-mail samples of their work and a short essay as to why they should be considered to customartistresident@gibson.com. In addition to global promotional support provided by Gibson, artists selected will receive residency and housing in the Nashville area, studio space and a materials budget. Inspired by Gibson, but not encumbered by strict boundaries or restrictions, the program's sole requirement is that at least two commercially viable works of art be created during the residency.
James A. Willis, the program's inaugural artist, has been profiled in American Art Collector, Art & Antiques, and RefuelMagazine.com, among others and is currently the recipient of a studio space endowment from CHASHAMA, a nonprofit arts organization based in New York City. Following his residency, he will remain an integral part of the program as chairman and aid in the selection process of future artists.
"This program is dear to our heart and it wonderfully combines our love of music and art," says Henry Juszkiewicz, Chairman and CEO of Gibson Guitar. "We believe that having artists here will promote a great symbiotic relationship—and that they will inspire us and, hopefully, we will have the same impact on them."
About Gibson Brands:
Gibson Brands, the fastest-growing company in the music and sound industries, was founded in 1894 and is headquartered in Nashville, Tennessee. Gibson Brands is a global leader in musical instruments, consumer electronics, and professional audio, and is dedicated to bringing the finest experiences to consumers by offering exceptional products with world-recognized brands.
Gibson Brands has a portfolio of over 100 well-recognized brand names starting with the #1 guitar brand, Gibson. Other instrument brands include Epiphone, Dobro, Valley Arts, Kramer, Steinberger, Tobias, Slingerland, Maestro, Baldwin, Hamilton, Chickering and Wurlitzer. In professional audio, KRK Systems, TASCAM, Cerwin-Vega, Stanton, and Cakewalk also continue Gibson's tradition of quality in their respective markets. Consumer electronics brands include Onkyo, Integra, TEAC, and Esoteric.
Gibson Brands recently expanded its reach into consumer markets with the acquisition of Philips' Home Entertainment based in Hong Kong—a company that invented the cassette tape, the CD format, the DVD format and the MP3 format. Under the Philips and Fidelio brand names, Gibson Brands continue to represent the ideal combination of innovation, tradition and a dedication to improving design while maintaining the highest level of craftsmanship.
A global company, Gibson Brands has manufacturing, marketing and research and development centers throughout the world.
All Gibson Brands are dedicated to innovation, prestige and improving the quality of life and music for its customers. Its goal is to provide the most exceptional customer audio products and experiences in the world.
Contacts:
Maureen O'Connor/Eileen Thompson-Ray/Joe Schneider
Rogers & Cowan
310-854-8116/310-854-8137/310-854-8140
moconnor@rogersandcowan.com
ethompson-ray@rogersandcowan.com
jschneider@rogersandcowan.com